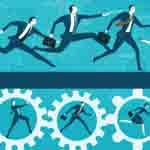 "Sapphire took a complex brief and turned it in to a succint HMRC proposal which they presented whilst keeping us fully informed on progress. An excellent company to work with and one we highly recommend." David Wing - UK Education India Limited.
Description:
UK Education India seeks to establish, across India, a series of educational hubs (Knowledge Campuses) each of which will enable local communities to benefit from UK education standards of excellence in an affordable and readily accessible way. The overall aim is to have several campuses across India, however, it is proposed that the first will be in Jaipur, in the Indian State of Rajasthan. Jaipur is home to many well established and internationally recognised independent schools with whom we are developing collaborative relationships.
The first Company campus fits well in to this educational environment being 41,000 square metres in size with a day student capacity of 2,000. The campus is fully air conditioned, with high quality classrooms and teaching facilities, it includes a swimming pool, tennis and volleyball courts, soccer field and horse riding provision.
Sector:
Education
Classification:
SEIS and EIS advance assurance.