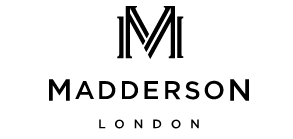 "I was delighted with the service that I received from Boyd and his team at Sapphire. I was anxious to get our EIS Advance Approval as soon as possible so I wanted to make sure the documentation I filed to HMRC was perfect first time around. Boyd supplied me with all the templates I needed, including a cash-flow forecast template, which was extremely helpful. He was very responsive to all my questions, and I found the content on Sapphire's newsletter and website very useful and relevant too. All in all, I felt in very safe hands and this was confirmed when the HMRC approval came through within four weeks of my application. Thank you Boyd!" Sara Madderson, Madderson London.
Description:
Madderson London is a British womenswear brand, celebrating British heritage in a romantic, timeless, indulgent way. The Company mission is to create beautiful, affordable clothes while being a force for good in the world. The founders met at school aged 10. They left established careers at Goldman Sachs and Microsoft respectively to set up Madderson London together. Their corporate careers provided the inspiration to tackle the gap for affordable workwear with a luxury touch. The Company's starting point was maternity wear, given the lack of suitable options available to working women at the time. The Company quickly expanded into womenswear. The clothing is made with integrity, mainly in Britain, and is crafted to last as investment pieces that will elevate our customers' wardrobes for years to come..
Sector:
Online luxury British womenswear and maternity a womenswear label.
Classification:
EIS advance assurance.