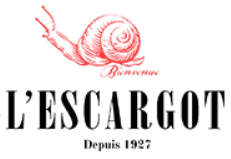 "Wanted to drop you a note to thank you immensely for all of your hard work on completing the IM for L'Escargot. Without your hard work, direction, and perseverance, this would have been a great deal less likely to have been successful!! Vasiliki- I have to say that you were a total star putting up with me and all the alterations that were required… We would love to invite down to L'Escargot as our guests if you ever the get the opportunity." George Pell, Managing Director, L'Escargot Restuarant.
Description:
L'Escargot Limited is a private limited company which owns and operates L'Escargot restaurant in Soho London. L'Escargot is already considered to be one of the most renowned and beautiful restaurants in the UK, and is the oldest French restaurant in London.
It has been on the current site since 1927 and has been the haunt of many celebrities including Coco Chanel, the Beatles, Frank Sinatra, Elizabeth Taylor, Lucien Freud, Francis Bacon, and Diana, Princess of Wales.

The restaurant has a reputation for its exceptional food and over the years has had many celebrity chefs at the stoves including, the Galvin Brothers, Alistair Little, David Cavalier and Marco Pierre White.
The opportunity exists to substantially improve and expand the private members club by developing the upper floors to include a new members bar area, private dining rooms, and a live music performance space.
Sector:
Restuarant and private members club.
Classification:
Information Memorandum.