Last Thursday, the Enterprise Investment Scheme Association's (EISAs) Ready, Steady, Grow! Belfast event took place, and it was nothing short of inspiring. For those passionate about the startup and SME investment landscape, this event was a treasure trove of knowledge, networking opportunities, and invaluable takeaways. As the event chair, I wanted to share my reflections and highlights from the day.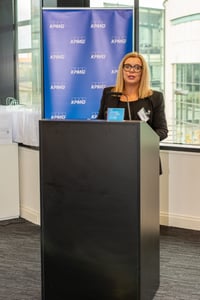 Susan McKane, representing for the British Business Bank, kicked off the event with a comprehensive update on the early-stage market, with a specific focus on recent commitments in Northern Ireland. Her insights painted a promising picture of the local startup ecosystem, emphasising the growth potential and opportunities available in the region including the support being offered to female founders. Susan's presentation was not just informative but also incredibly motivating for those looking to invest or support startups in Northern Ireland.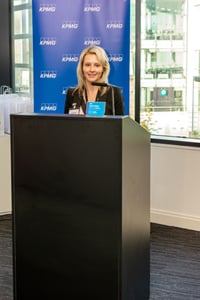 In today's ever-evolving business landscape, innovation is the name of the game. Harriet Porter from KPMG took the stage and masterfully guided us through the process of investing in innovation via the Seed Enterprise Investment Scheme (SEIS) and the Enterprise Investment Scheme (EIS). Her session provided a clear roadmap for identifying and nurturing innovative startups, paving the way for groundbreaking investments.
Adam Lawrence from RW Blears shared his insights on seamlessly integrating SEIS and EIS into investment deals. His expertise shed light on structuring deals that not only offer tax benefits but also contribute to the growth and success of the startups involved. It was a practical session that left us with actionable strategies to apply in our investment journeys.

The event's penultimate session showcased a captivating panel discussion, skilfully moderated by me on behalf of Sapphire Capital Partners. The panel comprised of two of the sector's leading fund managers: Andrew Aldridge, representing Deepbridge Capital, and Tim Dickens from Octopus Ventures. Collectively, they delved deep into the intricacies of fund management, sharing invaluable insights on decision-making processes, risk management strategies, and the ever-evolving landscape of startup investments. This enlightening and thought-provoking discussion left attendees with thought provoking content, providing a remarkable prelude to the event's subsequent proceedings.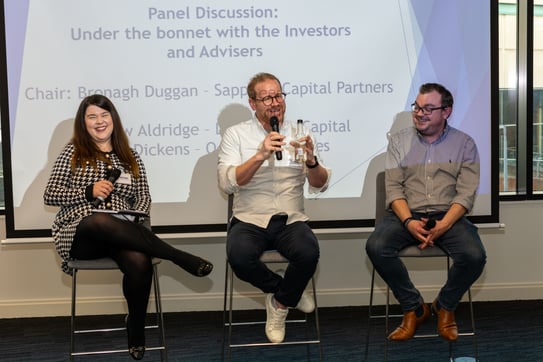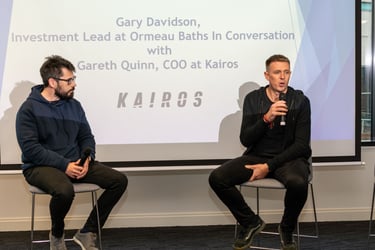 For anyone who has ever wondered about the trials and triumphs of startup founders, Gary Davidson's of Ormeau Baths conversation with Gareth Quinn, the COO at Kairos was a true eye-opener. Their candid discussion offered a unique, behind-the-scenes look at the challenges, milestones, and strategies that fuel a startup's journey from inception to success. It was a powerful reminder of the passion, resilience, and innovation that drive the entrepreneurial spirit.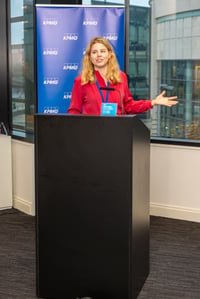 The closing remarks by Christiana Stewart-Lockhart, representing EISA, were a fitting conclusion to an enriching evening at Ready, Steady, Grow! Belfast. With an eloquent and heartfelt address, Christiana emphasised the importance of collaboration and continued commitment to supporting startups and SMEs, especially in light of the ongoing discussions surrounding the EIS and VCT April 2025 sunset clause. She underscored how events like this serve as a catalyst for innovation, growth, and economic development, and thanked all the attendees, speakers, and organisers for their invaluable contributions. Reminding us of the pivotal role each of us plays in nurturing the entrepreneurial spirit and driving the success of early-stage businesses.
In conclusion, Ready, Steady, Grow! Belfast was more than just an event; it was an educational collaboration and networking experience that enriched our understanding of the startup and SME investment ecosystem. Whether you are an investor seeking promising opportunities, a wealth manager expanding your portfolio, a business advisor guiding your clients, or an entrepreneur on a quest for wisdom, this event had something for everyone.
Ready, Steady, Grow! Belfast is an annual event not to be missed, so if you couldn't make it this time, be sure to keep an eye out for the next one. Your investment journey is bound to be transformed by the insights and excitement awaiting you.