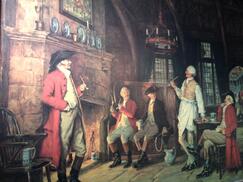 From an investor's perspective it is reassuring to know that the leading UK equity crowdfunding platforms list less than 10% of the businesses that approach them. It's therefore important for entrepreneurs to understand their selection criteria. There isn't a simple prescriptive list but here are some key principals that should be followed. From our experience, the following are the top 10:
1. It's all about you.
It's you who will deliver on the investment. It can be a world class product or service but if you can't deliver, no one will profit. You therefore have to convince the platform that you have the skills, experience and track record to create a success using the funds invested. You also have to convince the platform that you will be able to engage and connect with potential investors as well as being easy to work with and can be a good leader.
2. Is it a product or service with genuine potential.
Your product or service has to have a market that is ready and eager to pay for it. The well known success stories have been for mass market products primarily in the drinks and consumer technology sectors. The real untapped potential of crowdfunding is for niche products that can have huge impact while only being understood by a small number of industry experts. That industry will have it's own crowd, but the secret is reaching them and convincing the right platform that your product or service will not be the only business from the industry who can be a success on their platform.
3. Your team.
Like you, they have to be convincing. It's essential that the platform you approach can see that you have covered the main issues around the product, have a good understanding of your finances as well as the legal position and sales. A strong management team can give reassurance to both the platform and investors.
4. Your narrative or story.
Before potential investors read your business plan, closely examine your figures and make sure your descriptions are engaging and interesting. A crowdfunding platform has to be confident that your story will engage and connect with potential investors. This gives a business a real opportunity to present themselves in a way that is often unseen in business plans or SEIS/ EIS brochures.
5. Know what you are looking for.
Are you looking for passive investors, investor customers, cheerleaders and/or smart money? You should look at the platforms you approach and closely at the offerings listed and see what is potentially available from their existing crowd. This all has to fit into your overall business strategy.
6. Your crowd.
The platform will only get paid if you are successful, so if you can show how you can succeed they are more likely to list you. They will therefore be reassured if you have a crowd - which is either your existing customers, a loyal social media or other community following. A project has a greater chance of success when the first 30% is raised. If you can show where that 30% will come from a platform will be reassured.
7. Your partners / stakeholders.
They will validate you, your team and your business. They can include your obvious partners such as law firms, accountants and various industry bodies. If you have been supported by a local government enterprise agency or university or other business accelerator this too will give a platform and investors confidence.
8. Take advice early.
When preparing your pitch, or supporting business plan and documentation, please take advice. If you think you are eligible take advantage of the SEIS/ EIS schemes, Sapphire can help with this (see some of our examples clients here). Ensure that there are no legal issues surrounding your product such as patent infringement issues. It is also important to understand how to present yourself online. There is a genuine skill in managing your social media presence. By taking advice you can ensure your efforts are effective in building your presence which will give confidence to a platform.
9. Pick your crowdfunding platform well.
Is equity the right route - if manufacturing what about kick starter? There is an ever increasing number of platforms covering areas such as invoice factoring, p2p lending, equity investment and pledge pre-sale sites. Within these there are industry and sector specialists. Do your homework and chose the natural fit for your needs.
10. Be realistic and understand the consequences.
Your business has to have an ultimate goal and a planned strategy to achieve it. Crowdfunding is a tactic you can use to help achieve that goal. Don't look at it in isolation or with a short term perspective. Chose your platform with your strategy and longer goal in mind as there will be corporate governance and implications for your industry or sector reputation.
Good luck with your project and UK crowdfunding experience (and every success in raising money).
As always, we are happy to advise and help where we can.