In case you haven't heard, there is a "sunset clause" for the Enterprise Investment Scheme (EIS). which means that if there is no renewal before the 6th of April 2025, it will cease to exist. At the time of drafting the legislation, the European Union required the inclusion of a sunset clause to be used as a milestone for evaluating the effectiveness of the schemes on UK businesses. Many in the EIS community had hoped that, in light of the challenging past two years which have brought on recessionary pressure, the UK government would finally remove the sunset clause.
EIS has proven itself a significant driver for entrepreneurship in the UK, and to consider scrapping the scheme appears to me utterly preposterous and catastrophic. There are several reasons for my opinion:
Fundraising: Without EIS, an early-stage company will face significant challenges in getting any investment. Without EIS tax reliefs, investors will have little to no risk mitigation. Therefore, UK investors will be reluctant to invest in these high-risk companies. Lack of equity investment at the seed / early stage will likely result in seeking capital from bank lending, which will impact operations mainly because it is difficult for early-stage companies to obtain the lending required, but also because servicing the debt is a strain on cash flow, especially during times of high-interest rates. It is important to remember that many early-stage companies have little to no assets, are still establishing their customer base, and have management teams with little experience, so any additional strain on their cash could jeopardise their future plans.
Investors: EIS allows UK investors to invest in high-risk early-stage companies; without the incentives of EIS, investors will have no reason to invest in very early startups, thereby worsening the existing funding gap that the UK's venture capital economy has always had to deal with. Investors will face considerably higher tax bills or may decide to reallocate their money into different asset classes.
Impact on Industries: Most industries are eligible for EIS and this has allowed many different types of sectors to thrive and grow during times of restrictions on credit availability and other micro-level constraints. For example, in December 2021, the UK government announced that the UK tech sector attained their best year ever as success expanded further into cities outside London bringing more venture capital investment, more unicorns, more jobs and more futurecorns.

In 2021 "...almost £9bn of all venture capital invested went into startups and scale-ups outside London and the South East".

Although not all of this was EIS investment, the scheme was undoubtedly a considerable contributor.
Company Numbers:

Based on recent HMRC stats

, since the Enterprise Investment Scheme (EIS) was launched in 1994, 32,965 companies have received investment with approximately £24 billion of funds having been raised. There has been a steady increase in EIS use since 2010, which is considered to be due to sustained historically low-interest rates, as well as increased publicity and involvement of fund managers. The increase in companies' annual EIS investment limit to £5 million from 2012 to 2013 attracted significant investment. The number of funds raised almost doubled from 2013 to 2015.



Amount of funds raised under the EIS by new companies and old companies, April 1993 to 2020 - Source:

recent HMRC stats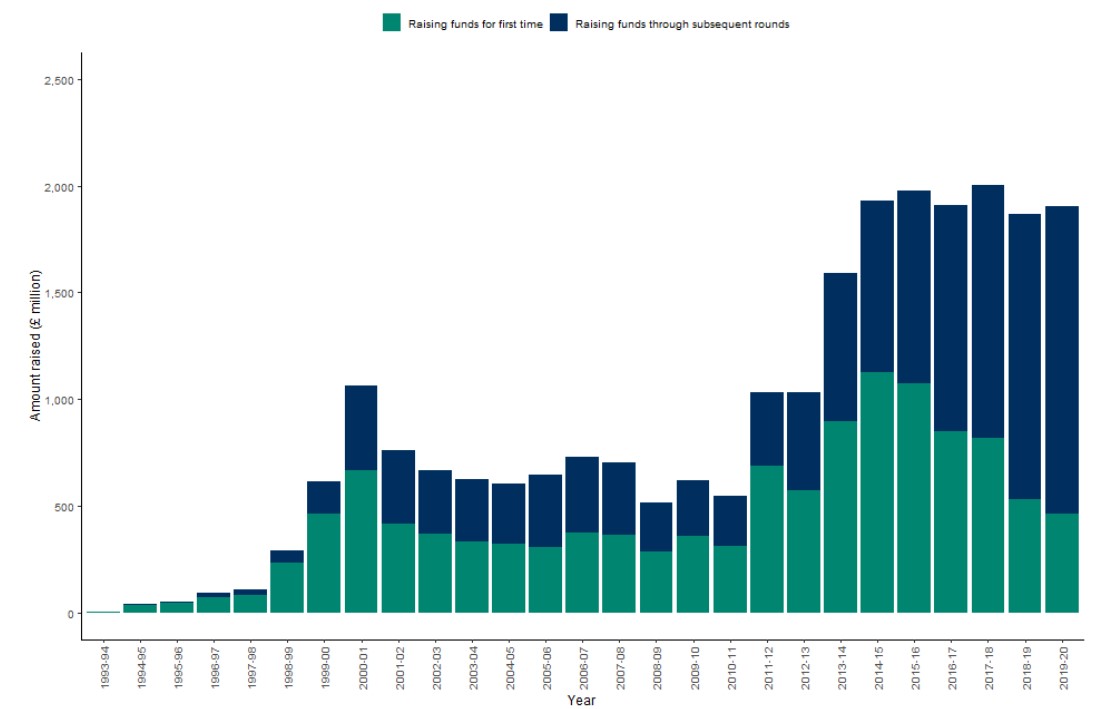 In light of all of this, my call to action is this: for the UK government to review, amend where necessary, and announce the renewal of the Enterprise Investment Scheme as soon as possible. When EIS was first introduced in 1994, Geoffrey Howe MP, Chancellor of the Exchequer, said that "by concentrating help on those companies which do not have ready access to outside capital, the scheme will assist many more small or medium companies to realise their undoubted potential for growth." This statement still resonates to this day.