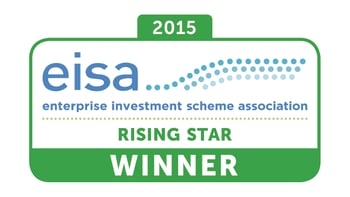 Let me start by saying how delighted I am to have been awarded the EIS Association's ("EISA") award for Best Innovation, Rising Star for 2015 at last week's reception in Westminster Abbey's House of Lords. It means a lot to me to be recognised by the EISA, as I greatly value the body's efforts in raising awareness of the EIS, SEIS and SITR schemes, as well as acting as an intermediary between HMRC/government and the private sector. Looking at the recent statistics of the schemes' adoption and how much investment has been raised through them, I am very much honoured and humbled at being acknowledged as playing a part in this sector of risk finance.
Although I typically write about questions we get on the schemes from various people we come in contact with, I would like to give an overview of the schemes' adoption rates as well as other statistics recently published by the EISA so that you can get an understanding of the impact and success they have had in assisting seed and early stage companies obtain their much needed first rounds of financing. Additionally, the benefits to the country from such investment is considerable, as it is a significant way in which the government supports entrepreneurship and innovation within its shores.
Did you know...
Since the EIS was launched in 1993 over

22,900

companies have received investment through the scheme, with over

£12.3 billion

being raised?
The change in income tax relief from 20% to 30% in 2011 and the introduction of the Feed In Tariffs further attracted investment into EIS?
The increase of the annual EIS contribution to £5 million also attracted further investment into the schemes?
The EIS scheme's adoption increased by over

51%

in one year, from funds raised in 2012-13 of

£576 million

to

£872 million

by 2013-14.
For SEIS in 2013-14, over

2,000

companies received investment and

£168 million

was raised in that year alone, up by

93%

from prior year.
The average SEIS investment per company in 2013-14 was over

£81 thousand

.
Since SEIS launched, a total of

2,900

companies have availed of the scheme and over

£250 million

has been raised.
In light of the continuous pressure from the European Union to limit/curtail these schemes, they are to continue at least up to 2025 as at current. The EISA's continuous efforts to maintain the schemes and the benefits to both the government and private enterprise will continue, and for that we should be grateful.
Sapphire Capital Partners LLP is authorised and regulated by the Financial Conduct Authority to conduct investment business. If we can help you in any way - please let us know by calling 0870 7348 912.

As a partner at Sapphire Capital Partners LLP, Boyd spends his days structuring SEIS and EIS schemes for companies and applying to HMRC for advance assurance on behalf of clients. Contact him by email at boyd@sapphirecapitalpartners.co.uk or view Boyd's profile here.