Mark Fahy, Head of UK Small and Mid Cap Companies, London Stock Exchange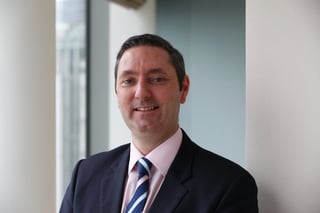 The London Stock Exchange Group understands the power of fast growing, ambitious businesses to the economic prosperity of the UK. These companies drive job creation, boost tax intake and create wealth across the country. What's more, the need for them to have access to appropriate growth funding is essential and we believe in the power of equity financing to support them.
In order for these businesses to expand and contribute to the economy, they need to rebalance their financing - away from debt, towards equity. But, the statistics remain troubling. According to data from the British Bankers' Association, only three per cent of UK SMEs use equity finance, in stark contrast with the US, where over 70 percent of financing comes from various types of equity: angel investment, crowd-funding, venture capital, private equity or a stock market listing.In addition to our core markets (AIM and the Main Market), London Stock Exchange Group launched ELITE, to work with private companies with ambitious plans and a need for capital to achieve them. ELITE is a structured programme aimed at helping these businesses better prepare and structure for the next stage of growth. Launched by our sister exchange, Borsa Italiana in 2012, it was rolled out across the UK in 2014 and across the rest of Europe in 2015.
ELITE introduces the leaders of fast growing UK companies to academics, entrepreneurs and business leaders and gives them access to a community of leading advisers and investors. ELITE in the UK is delivered in partnership with Imperial College Business School. Through the programme, ELITE company leaders receive practical knowledge on the different sources of finance, be that venture capital, private or public equity, to help them grow. More importantly, it's a platform for companies to share their challenges and learn from each other, not just in finance but other areas such as reaching new markets, managing talent, developing their strategy and equity story.
Feedback from participating company founders and management has confirmed that being part of ELITE's vibrant community has helped them attract talent and funding, develop expertise, deepen and broaden their contacts and grow in confidence as a business.
A recent success story for one of our ELITE companies in the UK was the IPO of Nottingham-based Van Elle, a leading UK geotechnical, piling and foundation engineering contractor, on AIM. Van Elle successfully raised £40 million, valuing it at £80 million. Apart from being the first ELITE UK Company IPO, a tremendous accomplishment for the company, the deal also reinforces ELITE's ability to prepare firms for the next stage of funding growth, whatever the route taken.
Today, more than 700 companies, advisers and investors make up the growing international ELITE community. There are 87 companies from across the UK, representing a range of sectors, including Belfast-based B-Secur, Scottish developer of regenerative medicine, Taragenyx, Manchester-based software developer, Reason Digital and Chesterfield financial services provider, Evolution Funding.
What is evident from ELITE in the UK is that the country is home to hundreds of innovative, diverse and growing businesses from across numerous sectors. But, being a CEO of a growth business is tough and lonely with many challenges. ELITE offers the opportunity for companies and their leaders to not just be part of a training programme or accelerator scheme but become part of a vibrant community and support each other many years long after the programme is over.
We are now recruiting the next cohort to join at the end of April – to find out more about ELITE and how it could help your business, visit www.elite-growth.com.
Sapphire Capital Partners would like to thank Mark Fahy of the London Stock Exchange Group for contributing this article to our Moneylab blog. All views and statements expressed are those of the author, Mark Fahy.

Sapphire Capital Partners LLP is authorised and regulated by the Financial Conduct Authority to conduct investment business.