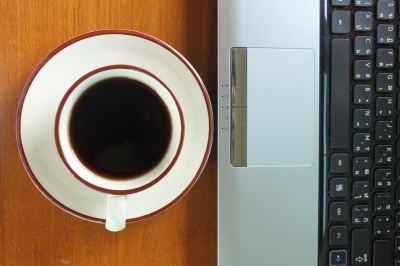 In the 17th Century merchants would meet at Jonathan's coffee house in Exchange Alley London and discuss business, trade and buy/sell shares in their various enterprises. Traders of higher standing did the same but within the gentlemen's clubs of Pall Mall. Following the chaos caused by the South Sea Bubble they formalised the trading and established the London Stock exchange. Things surprisingly haven't moved that far from Jonathan's coffee shop. Now it's Café Nero, Starbucks and other favourite coffee shops where business plans are reviewed and deals are struck.

How it happens today.
A business that has been growing over a period of time, developed by a friend or business associate or someone you've met at a networking event, has come to the stage that it needs funding. A coffee is arranged and information is shared and the offer to invest is made. The sharing of information often will include an information memorandum, previous years accounts, business plan and a hasty presentation on an ipad. Further information is usually required and once this is shared, solicitors review documents, you invest and your name appears on the share registry. You will then receive annual accounts and notifications of anything deemed relevant to share holders, usually further fund raising or a trade sale or IPO. If feasible, it hopefully will have been structured as an EIS or SEIS qualifying investment.

You have protection as a minority share holder and often you will receive share holder perks (advance access to product or discounts). You may not invest, for many reasons; one could be lack of information. The information may have been available, but a coffee shop pitch might not have told you enough of the story to convince you to ask for more. The meeting can then be seen as a waste of time for all involved.

Can equity crowdfunding platforms help this process?

People want to invest and businesses need the funds but putting the right people in front of each other is the challenge. The importance of the coffee shop should not be underestimated as, it is always said, investors invest in people and you can't easily get to know someone online or down a phone line. The role of the typical UK crowdfunding platform is to give the business the best opportunity possible to present their business case to investors using all means possible – video, presentations, documentation and to facilitate an understanding between potential investors and the entrepreneur.

As a result, when a face to face meeting does take place, there will be something meaningful to discuss from the potential investors view point and not a standard pitch. If an investment does take place the UK crowdfunding platform's role can then change as well.

Do we expect too much from the crowdfunding platforms?
At an alternative finance conference I attended recently in London, there was a suggestion that most UK crowdfunders expect the platform to protect their interests following the raise. Currently this isn't the case with most platforms, Seedrs is the only exception I am aware of.

A white labeled crowdfunding platform will give a business the opportunity to use the platform to manage their share holders by presenting company information around product and service launches, changes to staffing, performance results etc. This will help prepare the business for a future IPO or manage the expectations of share holders if trading conditions change. It's a fair observation that share holders can hold different opinions on the future direction a business should take and this can have both a positive or negative impact. The hope is that by effectively managing the information on the crowdfunding platform any problems can be averted before they build any form of negative momentum.

Crowdfunding can be a benefit.

A company's resources and time should be focused on creating revenues and profits rather than managing the share holders. Your share holders can be your greatest advocates and supporters as they have both a financial and emotional interest in seeing the business succeed. They can be used as market researchers, sales people, product testers, recruitment consultants, mentors and advocates. They will do this if they are engaged and a crowdfunding platform can be an excellent way to do it. We would encourage any business to explore this option.


For more about the top considerations to put in place before launching a crowdfunding platform, read our blog article "Top 10 UK crowdfunding fundamentals"
Sapphire Capital Partners LLP can assist throughout this process. From the fund raise to the share holder management using the technology of our partners at Crowd Valley.