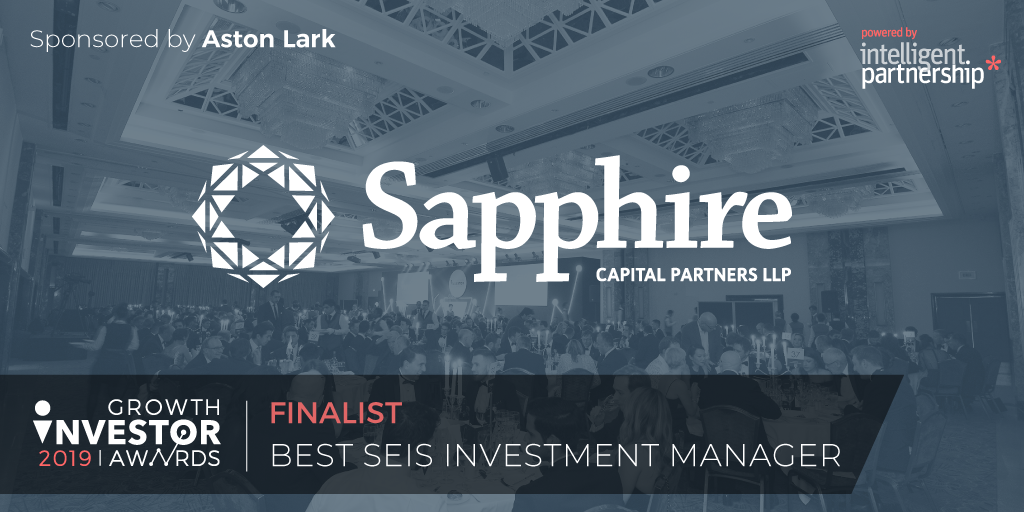 .
The following is a press release from Growth Investor Awards:
GROWTH INVESTOR PRESS RELEASE:
"Sapphire Capital Partners LLP has been shortlisted as a finalist in the fifth annual Growth Investor Awards-In the running among six other companies for the coveted award for Best SEIS Investment Manager-All finalists will be celebrated at a black-tie event on November 6.
30 July 2019:
Sapphire Capital Partners has beaten off tough competition to become a finalist in the Best SEIS Investment Manager category of the fifth Growth Investor Awards. For five years, these awards have shone a spotlight on the providers who have an impact beyond investment:creating jobs, boosting economic growth, and supporting innovation. This crucial investment inspires optimism into companies up and down the UK. And it is fanning an entrepreneurial spark that has made the UK a leading producer of growth companies in recent years. Sponsored by Aston Lark, the Best SEIS Investment Manager award celebrates leading companies specialising in Seed Enterprise Investment Schemes. Sapphire Capital Partners will compete for the award alongside six other impressive finalists: Deepbridge Capital, Jenson Funding Partners, RLC Ventures, Startup Funding Club, Symvan Capital and Velocity Capital Partners. Commenting on becoming a finalist in this prestigious awards event, Boyd Carson of Sapphire stated- "We are delighted again to be nominated for this prestigious award and humbled to share the nomination along side six such impressive finalists."