SEIS investors got a welcome boost from the chancellor George Osbourne in the 2013 budget. In his budget speech, the chancellor extended the capital gains tax re-investment relief on SEIS. As a result, any investor into a SEIS during the tax years 2013/2014 will receive 50% capital gains tax relief when they re-invest those gains into SEIS companies in either the 2013/14 or 2014/15 tax years. The announcement of the 2013 budget is a welcome boost for startup companies.
A Brief Summary of SEIS
SEIS offers tax relief to investors in smaller, higher risk companies, in order to help them raise finance. SEIS offers unbeatable tax reliefs and allows investors to invest in startups with a reduced downside risk.
In order to attract SEIS funding, the company must:
Employ 25 people or less.
Be no more than 24 months old.
Have less than £200,000 in assets.
Meet the "qualifying trade" rules.
Tax Benefits of a SEIS to an Investor
The following is a brief summary of the tax benefits of investing in a SEIS:
50% income tax relief (maximum of £100,000 in a single tax year).
50% capital gains tax re-investment relief in 2013/14 and 2014/15.
100% inheritance tax relief after 2 years.
100% capital gains tax relief on the eventual sale of the SEIS company shares.
Loss relief available should the company fail.
Unlike the Enterprise Investment Scheme (EIS), the capital gains tax relief in a SEIS is a re-investment "relief" rather than a "deferral" of the eventual payment of the tax. Therefore the SEIS relief is more generous in relation to reducing capital gains tax as an investor is not having to pay 50% of their capital gains.
To gain full advantage from SEIS tax relief, the investor should be:
A UK taxpayer.
Must hold 30% or less of the SEIS company's shareholding.
Can invest a maximum £100,000 in a single tax year.
From 2013/14 the investor can carry back £100,000 to the prior year (therefore £200,000 can be invested in the tax year 2013/14).
Leave the money in the SEIS company for at least three years.
In order to claim capital gains tax relief, the investor must have some income tax.
Example Investor Tax Saving
The tax saving on a £100,000 investment is a 50% or £50,000 income tax reduction. If the investment was raised from selling other assets, the capital gains tax saving is a 14% or £14,000, adding up to £64,000 relief on the total investment. Depending on the success of the company any gain is capital gains tax exempt. If the company fails, the loss relief for a 45% tax payer is 22.5% or £22,500. Total relief is therefore 86.5% or £86,500 (being £50k, plus £14k, plus £22.5k). Therefore, in the situation were the company fails, the SEIS will protect up to 86.5% of the investment, leaving 13.5% or £13,500 as a potential loss.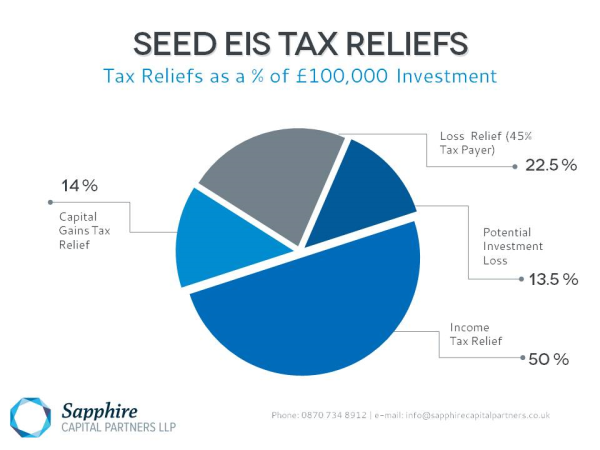 £200,000 Income Tax Saving
If an investor has an income tax liability of £400,000 in the tax year 2013/14, the investor will be able to obtain relief SEIS of £200,000. This is achievable by investing the maximum of £100,000 in the tax year 2013/14 and carrying back £100,000 to the previous year, being 2012/13. This also assumes that the investor has identified more than one SEIS to invest in as the maximum investment in any one SEIS is £100,000.
Combination of SEIS and EIS
It is possible for a company to qualify for both EIS and SEIS relief at the same time. This is possible were the company meets all the SEIS qualifying trade rules (less than £200,00 in assets, less than 24 months old etc.). As a result - the first investors into the company, up to £150,000 of investment, will be eligible for SEIS relief (50% income tax relief etc.) and investors who invest after the first £150,000 has been raised will attract the benefits of EIS reliefs. When applying to HMRC the company should apply for both SEIS and EIS at the same time, using the HMRC form EIS/SEIS(AA). In our experience of raising money for companies, the first money in is always the hardest to raise, so new companies should take advantage of this. It also means that once they have raised the SEIS monies and require further funding, they don't have to wait for HMRC advance assurance before starting to raise EIS monies.
To find out more about our Seed Enterprise Investment Scheme services and the types of companies we invest in, please contact us by completing the form below or by calling 0870-734-8912.
Sapphire Capital Partners LLP is authorised and regulated by the Financial Services Authority to conduct investment business.

As a partner at Sapphire Capital Partners LLP, Boyd spends his days structuring SEIS and EIS schemes for companies and applying to HMRC for advance assurance on behalf of clients. Contact him by email at boyd@sapphirecapitalpartners.co.uk or view Boyd's profile here.
Contact Us
Related articles