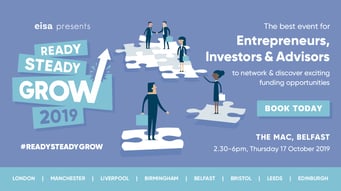 It is time for the annual EIS Association's "Ready, Steady, Grow" Belfast, and we are delighted to be hosting once again. This year's event brings even more value-added content and ground breaking thought leadership, with a "Dragon's Den" type pitching session, and the first ever "Women in Venture Capital" panel being held in Northern Ireland!
Join us on the 17th of October at 2.30pm at the Metropolitan Arts Centre, in Belfast.
Here are three reasons why you should attend:
Hear an impressive line-up of speakers from Northern Ireland and beyond, talking about their experience and perspectives on the Enterprise Investment Schemes.




Be there for the "Women in Venture Capital" panel discussion. The panellists will discuss SME investing, career journeys, as well as gender diversity and inclusivity in the investment profession.




You seek to raise investment for your start-up and would like an opportunity to pitch to leading EIS fund managers such as Deepbridge Capital, Symvan Capital and Techstart Ventures.



An impressive line-up of speakers.
As with past "Ready, Steady, Grow" seminars, this year's speakers discuss with "radical transparency" the Enterprise Investment Schemes. The main presenters include:
Neil Simms, Finance Director, Clarendon Fund Managers
Ian Tracey, Head of A2FF, The Knowledge Transfer Network
Mark Sterritt, Senior Manager, British Business Bank

John Phelan, National Director, HBAN
There will also be a "fireside chat" with Connor Sweeney of Elkstone Private and Jenny Ervine of Raise Ventures.

The "Women in Venture Capital" panel.
The start-up world has significantly changed in the past few years from very expensive to enter, to very easy to set up and start a new company. Global trends continue to highlight specialised micro funds (such as SEIS and EIS funds) as well as ESG (Environmental, Social, Governance) investing. Despite rapidly evolving markets and significant changes to technology, we still do not see many women breaking into fund management leadership. Why is it so difficult to achieve gender inclusivity in the investment sector, when empirical data and research proves that women investment professionals increase bottom line profitability? Our panellists will share their perspectives, what "superpowers" female professionals and entrepreneurs must harness to succeed, and how we can all work together towards a more diverse and inclusive industry. The panellists joining me for this discussion include:
Pippa Gawley, Founder, Zero Carbon Capital EIS Fund
Claudine Owens, Portfolio Manager, Clarendon Fund Managers
Monik Pham, Investor, Fuel Ventures EIS Fund
Isabella Ghassemi-Smith, Ecosystem Manager, Seed Legals
Did you know...
Harvard Business School first started admitting women in 1963. Even at that time, venture capital Professor George Doriot (known to have educated several leading American venture capitalists of the 1980s) continued to refuse to let female students take his classes (1).
in the European Union (including the UK), women make up only 11% of top executives and only 4% of CEOs and heads of boards (2).
only 1% of Fortune magazine's Global 500 have female CEOs (3).
unconscious biases can be powerful!
Pitching for SEIS / EIS investment.
If you are an entrepreneur looking for investment in your big idea, you can pitch your plans to investors and business advisors at this event – with just 5 minutes to pitch to our panel, they will offer you insight and advice directly relevant to your business idea! Email Mark Brownridge or Ceri Evans to secure your pitching spot!
To register for

"Ready, Steady, Grow" Belfast click here. We hope to see you there, at what will surely be a "game changer" event!

Footnotes:

1) Tom Nicholas, "VC, An American History" (2019)

2) Alice H. Eagly and Linda L. Carli "Through the Labyrinth: The Truth About How Women Become Leaders" (2007)

3) Ibid.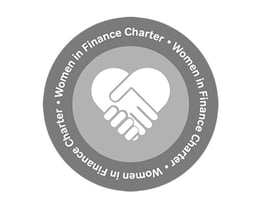 Sapphire Capital Partners LLP, as a signatory of the Women in Finance Charter, pledges support to improve gender diversity in the financial sector, and to enable business women's talent to be optimised for the greater good of businesses and the economy.